LEARN -How to participate… in the Sport
World Archery is the international governing body for the sport of archery. https://worldarchery.org
World Archery based in Lausanne, Switzerland. Its mission is to promote and regulate archery worldwide. It has developed the sport with over 160 member country associations (USA Archery) through competitive regulations, international events, development initiatives, and marketing. It is responsible for setting the rules and regulations for international archery events, organizing the World Archery Championships and for the sport at the Olympic Games, Paralympic Games and World Games. This is endorsed by the International Olympic Committee, International Paralympic Committee and International World Games Association.
World Archery was founded on September 4, 1931 in Lwow, Poland (now known as Lviv, Ukraine) as the Federation Internationale de Tir a l'Arc or FITA .  Its mission was to promote archery worldwide through the unification of rules and development of international events. The federation has been a trailblazer in areas of modernization, development, and gender equality. Its name officially changed to World Archery in 2011.
USA Archery  https://www.usarchery.org
Headquartered in Colorado Springs, Colorado, USA Archery, formally known as National Archery Association was formed in 1879 to foster and promote the sport of archery.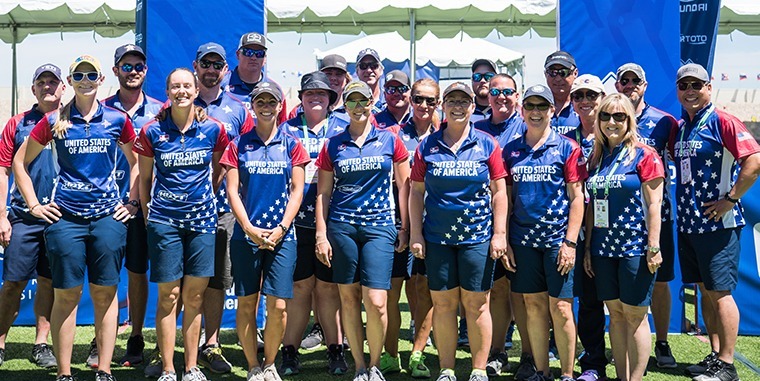 The mission of USA Archery is to provide the necessary resources to foster strong athlete participation, competition and training in the sport of archery. Membership in USA Archery is open to everyone involved in all disciplines of archery including target, field and 3-D. USA Archery sanctions more than 200 events annually and conducts indoor, outdoor and collegiate National Championships as well as the United States Archery Team Qualifier Series. USA Archery also provides youth and adult archery programs and clubs throughout the United States, and certifies archery instructors, coaches and judges.
Lesson: Scoring Basics – from OAS
The target face goes from 1 to 10 points. The inner most ring in the gold is the x-ring and is used for tie-breakers (still worth 10 points)
If an arrow touches the line then it goes to the higher score
Each group of arrows we shoot is known as an end.
When we score we first write down the scores (don't touch the arrows) from highest to lowest. Two archers will write down scores on score cards while another archer calls out the scores and the last archer double checks. Two score cards are used to double check the math and scores.
If an archer misses the target face, then it is written down as an 'M'
Lesson: Competition Rounds – (25 min.)
Ranking round

Indoor – typically 4 rounds of 30 arrows shot at 18 meters (120 arrows total)
Outdoor – 36 arrows are shot at 4 different distances (144 arrows total). For example,the men shoot 90m, 70m, 50m, and 30m

Team Round

3 archers per team
Each archer shoots 2 arrows
Archers must shoot one at a time. You must decide which side you will enter/exit fromso that you don't run into each other.
4 ends are shot for each match.
Rio Olympics Men's Final https://youtu.be/rzj4FFi7wt8   semi final  https://youtu.be/Sg0_LSHcGY4

Olympic Round

Individual, head to head matches
12 arrows are shot per match (either 2 ends of 6 arrows or 4 ends of 3 arrows)
4) SPORT
Youth have a lot of opportunities in archery all of the way from the local level to the Olympic Games.

  JOAD club — you can join a local JOAD club (Junior Olympic Archery Development)
  Competitions — there are many local, state, national, and international competitions
  Jr./Cadet USAT — you can make the Jr./Cadet United State Archery Team by gettingranking points at competitions
  JDT — the Junior Dream Team is comprised of the nation's best young archers
  Youth World Championships — the YWC are held every two years and are an amazingway to travel the world as they are held in different countries each time
  USCA — many universities have archery clubs that are part of the U.S. College Archeryprogram. Competitions (both domestic and international), club support, andscholarships are available through USCA
  Youth Olympic Games — the first YOG was held in 2010 in Singapore where youth fromall over the world came to compete in a venue fitting of the Olympic Games. The gameswill continue to be held every 4 years
  Olympic Games — the epitome of sports. As noted early, Denise Parker competed in the1988 Olympic Games when she was 14 years old. Right now young archers all across the nation have the Olympic dream and are training to make the team
Anatomy of the Archery with Brady  https://youtu.be/-6GzUz1OeaM
Some questions:
How many countries participated in these games? _______________________________
How many days of competition does the archery event last? _______________________
How many competitors in the men's division? __________________________________
How many competitors in the women's division? _______________________________
At which games did archery become part of the Olympic Program? _________________
Why was archery then discontinued from the Olympics after 1920? _________________
What year and games did archery return to the Olympics? ________________________
How many arrows are shot to determine rankings? ______________________________
How far are the archers shooting? ____________________________________________
How are ties decided? _____________________________________________________
Who won the gold in the individual women's division? ___________________________
Who won the gold in the individual men's division? _____________________________
For team rounds, how many archers are there per team? __________________________
Which team won the women's team competition? _______________________________
Which team won the men's team competition? _________________________________